The Beige Book: A Timely Economic Read
Statistics are essential for making decisions on economic policy, but numbers may not tell the whole story. That's why the Federal Reserve Open Market Committee also looks at a more informal report of economic conditions before each of its eight regularly scheduled meetings during the year.
Popularly called the Beige Book (for the color of its cover), the report is officially titled Summary of Commentary on Current Economic Conditions by Federal Reserve District. Also available to the public, the Beige Book gives committee members a broad overview of the economy based on anecdotal information collected by staff members in each of the 12 Federal Reserve Bank Districts (see map).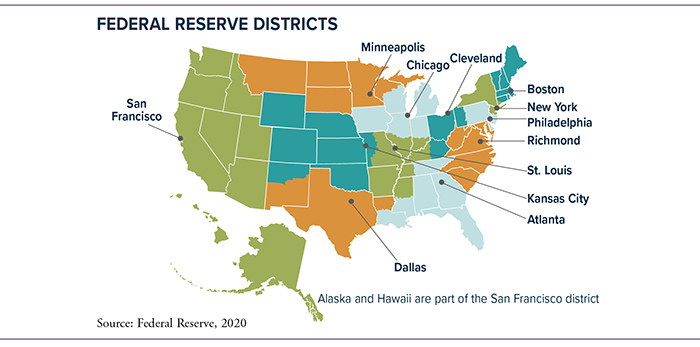 Insider Impressions
The information is gleaned from business leaders, bank presidents, economists, and other market experts who have firsthand knowledge of local business conditions. A typical report may include input from company executives about how they are managing their inventories, their plans to add or reduce staff, how much money they are devoting to capital spending, whether sales are improving or worsening, what kinds of pricing pressures they are facing, and so on.
Comprehensive Snapshot
Following a standardized format, the Beige Book begins with a brief national summary followed by a series of two-page district reports that begin with sections on "Employment and Wages" and "Prices" — corresponding with the Fed's dual mandate to stimulate maximum employment while controlling inflation. Other sections cover general subjects such as consumer spending, manufacturing, and real estate as well as industries of special importance to that district. For example, the midwestern districts provide information on agriculture, the Boston district reports on software and information technology, and the Dallas district keeps tabs on oil drilling.
The Beige Book is more current than many other types of economic data and is easy to understand without specialized economic knowledge. If you are interested in knowing more about current trends in your district or elsewhere in the country, you can access the Beige Book at federalreserve.gov/monetarypolicy/beige-book-default.htm.